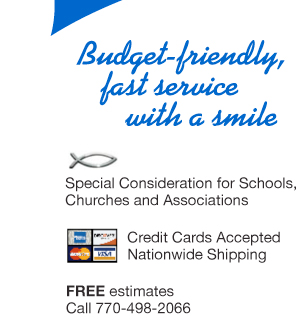 About Us

Budget Transfer Printing & Bindery is a small-business printer. We like doing business with new writers and small businesses to give them a hand up; the old established businesses to give them new perspective; the big businesses to let them see what they might be missing in terms of economy, response and creativeness; the schools, churches and associations because they need cost saving measures, quick turnaround and someone to lean on. Or the average housewife or the homeowner who just needs 50 creative copies of something for their neighborhood coffee klatch, the office party celebration, or the announcement of the new Garden Club Rules.

Because of our unique equipment and our low overhead, we are the magicians of small quantities, unique hand-tooled pieces and the last minute "help-I-missed-my-deadline" projects. But, we've also done more than one job of a million plus pieces, with cutting, trimming, binding, and boxing. In other words Budget Transfer Printing & Bindery can meet all of your needs quickly, efficiently, and cost effectively!

While Budget Transfer Printing & Bindery is a relatively new name in the printing and bindery industry, we actually have more than 26 years experience in design, marketing, and mentoring. We are definitely not your ordinary printer. We look at what you have; we "learn" your needs as a customer and counsel with you for possible other methods and opportunities. In the end we will do what you want done. We CAN edit, We CAN advise, We CAN help.

We always keep in mind that you are the customer and our place is to provide you with the best product, and trust that you will be pleased.

Please give us a call, we would love to work with you, whatever your endeavor may be.